Description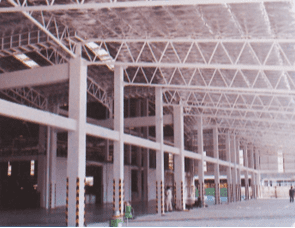 Purpose of fireproofing
Steel quickly loses its load bearing capacity when exposed to high heat. As steel reaches 538-649°F its strength (both compressive and tensile) decreases to half its original value. Because of the building codes, insurance companies and owners have required fire protection on structural steel.
The protection of fireproofing material provides the safe shutdown of key area in a structure or plant, or provides the time needed for firefighters to get the fire under control. The function of a "passive" type fireproofing, like FIREKOTE S99TM, is to prevent premature collapse of a structure and eliminate extensive property damage. structural steel fireproofing is an indirect contribution to life safety.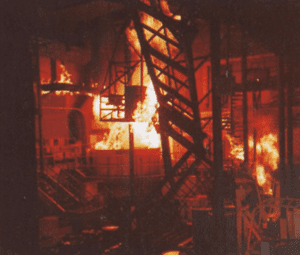 Technology of Coatings
FIREKOTE S99TM is a single pack special resin based intumescent fire resistance coating. FIREKOTE S99TM is quick drying coating which provides an excellent film against to corrosion and abroad range of chemical, FIREKOTE S99TM can be used epoxy for primer and topcoat
RECOMMENDED USED:
FIREKOTE S99TM is used as a fire protection either by itself or over epoxy base coat recommended for new or old steel structures of electronics plants, structure of department store and general factory etc.
Solvent-Based Intumescent Fire Resistance Coating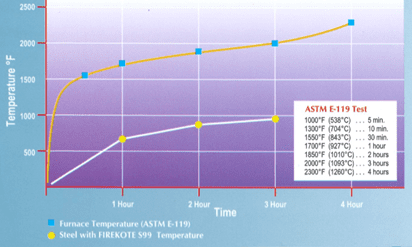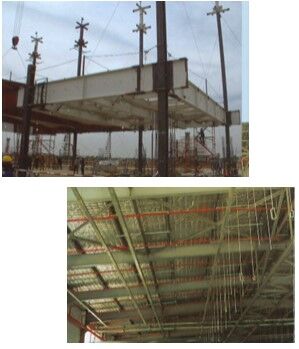 Fireproofing Standard
FIREKOTE S99TM
has been tested follow ASTM E119 standard Method For Fire Test of Building Construction and Material which is applied to structural members to deter heat transmission to the steel by keeping the structural elements below their failure temperature for a given period of time. When it exposed to fire to prevent the collapse and loss of the entire or part of a structure. The quality of FIREKOTE S99TM is also meet ISO 9001 standard.
Installation
Apply only on a dry and clean surface with steel temperature 3°C above dew point temperature to avoid condensation. In confined spaces, circulate adequate fresh air during application to assist evaporation of solvent and safety precaution.
Surface Preparation
FIREKOTE S99TM is usually applied over primer, undercoat or build coat. The surface coating of the primer must be sound and intact, free of surface contamination, soluble salts, oil and grease etc.
Mixing
Mixing with thinner 3A before apply the coating stir both component contents separately and thoroughly with an explosion proof stirrer.
Thinning
Thinner 3A do not dilute the components separately and thin only for workability.
Application
The following equipment is recommended as a guide and suitable equipment from other manufacturers may be used.
Air sprays:
The spray characteristics, Industrial equipment such as GRACO 800 air spray gun. Separate air and fluid pressure regulators, supply line is recommended mechanical pot agitator and moisture trap in the main air.
Brush or Roller:
Use for touch-up and inaccessible area. However, additional and moisture trap in the main air coats may be necessary to achieve the desired dry film thickness.
Physical Properties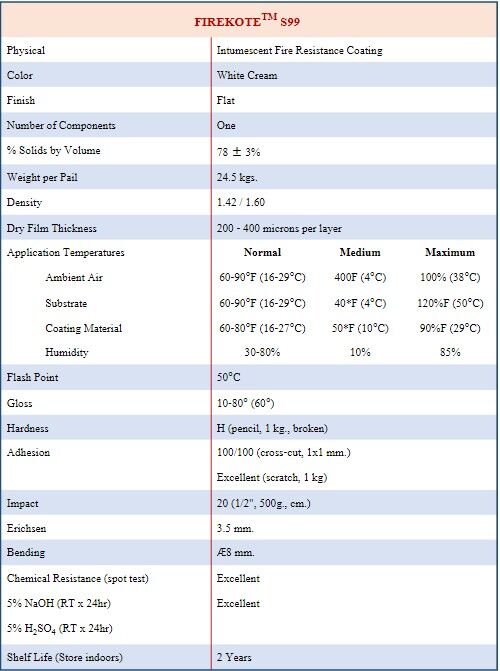 Project References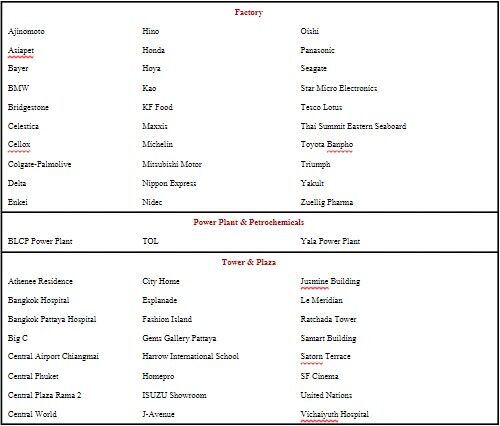 Safety Precaution
Avoid contact with skin and eyes, wear suitable protective coating such as overall, goggles, dusk mask and gloves. Use a barrier cream if possible.
Warranty
FIREKOTETM S99 product is expressly warranted to meet applicable technical and quality specifications. The technical data contained herein are accurate at the date of issuance but are subject to change without notification. No warranty of current accuracy is hereby given or implied. User must contact distributor to verify correctness before ordering.