Description

No Asbestos & Smoked Development
From the test by Union Chemical Lab of Industrial Technology Research Institute, it shows that FIRECUT F-100 does not contain any asbestos.
FIRECUT F-100 has passed the test in accordant to ASTM E84 standard (Fire Hazard), the smoked developed is zero.
High Strength
Due to containing the fiber, FIRECUT F-100 is tough and impact-resistant and no cracking can be observed after suffering a heavy impact. After it had been burned in the fire for 3 hours, the burned coating kept excellent strong physical properties and was not chalked or destroyed. This ability demonstrates that it will not be destroyed by the occured wind-storm in fire accidents.
No Corrosive
Due to the components of FIRECUT F-100 can
prohabit the oxidation of iron. It is not corrosive to the
steel substrate.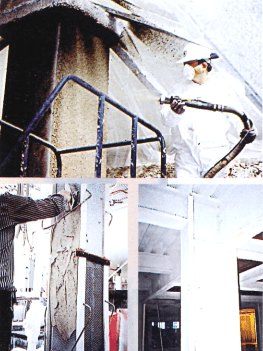 Easy Installation
FIRECUT F-100 has an excellent adhesion ability to steel substrates, thus it can be sprayed on the steel substrate without precoat or adhesion promoters.
Standard Fire Test
FIRECUT F-100 shows excellent rating compared to the equivalent products, classified to U.S. by Underwriters Laboratories Inc. (UL) according to the standard of ASTM E119(UL263) and NFPA 251.
UL1709 (Rapid Rise Fire Test)
FIRECUT F-100 was tested by the UL in U.S. according to the standard of UL 1709 (Rapid Rise Fire Test of Protection Materials for structural Steel and weatherability tests). Fire resistance was designed for protecting structural members subject to petrochemical exposure fires.
Exterior Usage
Due to the components of high chemical resistance, FIRECUT F-100 can be coated for exterior steel structures that are exposed to polluted environments. After a long term exposure, FIRECUT F-100 still showed good physical properties and free-protecting ability. It has passed the weatherability tests such as aging; high humidity; industrial atmosphere (CO2 – SO2 air mixture); salt spray; and combination of wet, freeze and dry cycling exposures. etc. conducted by the UL in U.S. according to UL 1709.

Automatic Production
FIRECUT F-100 is mass produced by totally automatic machines, so that it can be reliability supplied to customers.
The factory is also certified by ISO 9001.
FIRECUT F-100 was made in accordant to ASTM standard for the performance characteristics lised below critical to the long term viability of your fireproofing.
– Specification for High Density Fireproofing Product – Exterior –